About the Company
Automotivation Mobile Cosmetic Services is an automotive detailing and cosmetic service company serving the Cornwall area. These specialized and personal services are performed on an appointment only basis at your convenience. This is a mobile business so I come to you! With equipment and knowledge second to none in the area, old fashioned friendly and honest service Automotivation Mobile Cosmetic Service is there to service all your automotive reconditioning needs.
If a quick clean up on your daily driver is required, we have you covered. If you want your prized collectible detailed and preserved, we have you covered. If you have a business vehicle in need of freshening, we have you covered. If you are a dealer in need of vehicles being reconditioned and looking there best, again we have you covered! What ever your needs we offer the services and flexibility to cover all your vehicle reconditioning needs.
Along with detailing we offer widow tinting and paint protection films that will not only make your vehicle look fantastic but keep it looking amazing for years to come. All our window and paint protection films are cut from computer generated templates on a plotter. This allows for accurate high quality factory like installations without having to cut the film on the car like most shops.
Free consultations and estimates are also available so you will be able to tailor our services to your needs.
Our goal at Automotivation Mobile Cosmetic Service is to provide our customers with the best possible service with absolute professionalism at the most competitive prices in the Cornwall area. Call for an appointment or consultation and see the difference!
---
Owner's Story
Since I was a young boy growing up in Cornwall I have been a pure blooded car enthusiast. I've always loved fast, beautiful and rare cars. I love looking at them, being around them, driving them and most of all I love detailing them.
To say that I am passionate about detailing cars would be an understatement. As a young boy my mother would often find me in the driveway detailing my pedal car, trying to make it look as good as I possibly could. Even before I was old enough to drive I was often seen detailing and waxing my parent's cars to near perfection. Our neighbours and family friends took notice and would commission me to detail their cars for them as well. And I haven't stopped since.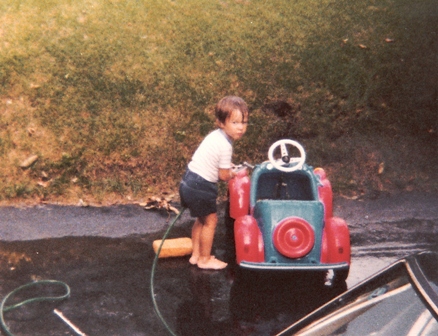 Starting my detailing career early at the age of 2.
But it was 17 years ago during my time at the Canadian Automotive Institute enrolled in the Automotive Marketing and Business Administration program that I really started learning about paintwork and the fine art of detailing cars to perfection. As students we were required to work co-op work terms in the auto industry for credits towards our program. There was an ad posted on the board in the co-op office at the school from a small business looking for someone to wash cars 10-12 hours a day for bad pay and in unpleasant working conditions. So of course I applied, in fact only one other person applied for the job. As it turned out I got the job and I ended up working for a master detailer in Toronto who was a specialist in the preparation, preservation and display of priceless prototypes, concept and production vehicles used for photography and display purposes all cross Canada for major automobile manufactures. For a young car and detailing fanatic I was in heaven.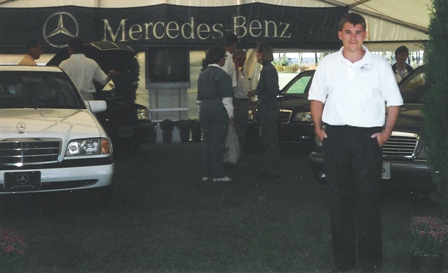 Representing Mercedes-Benz Canada as Team Capitain at the 1996 Georgian College Auto Show.
After my work term had ended I stayed on with the company while attending school at the same time and worked full time for them after I finished my schooling. I was trained in such specialized techniques for paint re-leveling as wet sanding, high-speed polishing, compounding and removing contaminates from painted surfaces. For 4 years I spent my time perfecting my craft and detailing vehicles for special events, auto shows, new vehicle introductions, photo shoots and television commercials for car manufacturers taking me from coast to coast all across Canada. I was detailing vehicles everywhere and anywhere from cozy shops to dark parking garages, automobile manufacturing plants, parking lots in the middle of winter to a mountain side in the Rockies.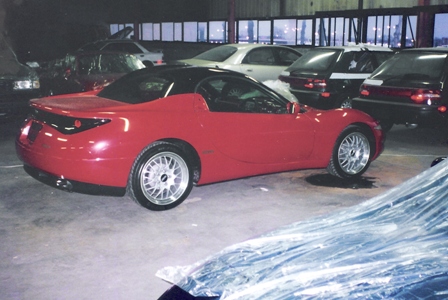 This Mazda RX-01 concept car was just one of the many priceless, one of a kind vehicles that I have been entrusted to detail during my career.
After years of long hours and constant travel I was burnt out and needed a change. Over the proceeding years my automotive career has lead me from working parts and service at the dealership level all the way up to working for a major auto manufacturer and upper management in the vehicle rental business. But I realized that my true passion in life has always been detailing cars and I found myself detailing vehicles on nights and weekends for friends and family. Again it was time for a change.
In 2010 my better half and I decided it was time to get away from the city and settle down in my home town of Cornwall. We decided that I should take the plunge and start a mobile detailing business, this is how Automotivation Mobile Cosmetic Services was born. Over my career I have had the privilege of working on some of the most beautiful cars in the world and now I have extended this experience to the residents of the area that would normally only be offered in a major urban centre for much more money and in the comfort of your own home.
I would like to extend an invitation to call me for a free estimate and consultation and experience the difference I can make in your cars look and feel. My mantra is quality over quantity… Always!
Cheers,
James Dolan
Founder and Owner
Automotivation Mobile Cosmetic Services
If you would like to read more about James follow this link to The Motoring Enthusiast Journal to read his biography. www.themotoringenthusiastjournal.com
---
Why Choose Automotivation?
When you call Automotivation Mobile Cosmetic Services, you call the owner. There are no secretaries. There's no manager or head office.
The reason for this is simple. I am a perfectionist, and cannot trust anyone else to detail a car with my care, skill or enthusiasm. As such, you can be sure of a personal service from Automotivation Mobile Cosmetic Services, and an unrivalled standard of work.
The equipment used is of top quality chosen for their effectiveness and reliability. Our truck is equipped with an on-board water tank, pressure washer, and vacuum, drying equipment, compressor and generator. There is no need to hook up to your utilities. This is especially practical for customers with hard water on a well or for situations where water and electricity are not available. This allows our customers to have their vehicle almost anywhere! As long as your vehicle can be accessed by our truck, it can be detailed!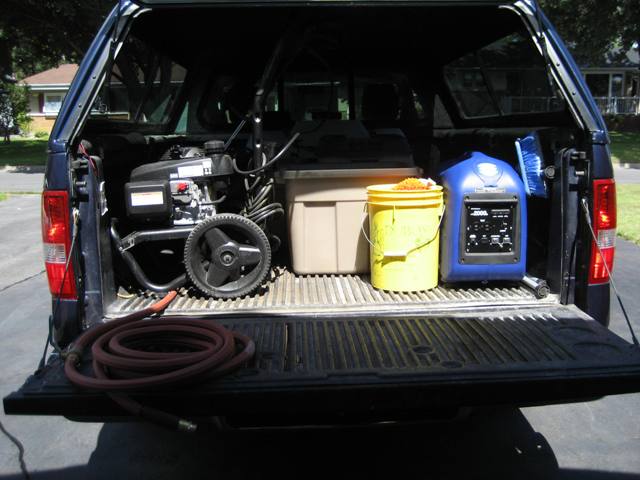 Our truck is fully equipped with a water tank, generator, pressure washer, vacuum, drying equipment, even a compressor! This truck is better equipped than most shops!
Only professional grade products are used on my client's vehicles after being tested and approved by myself on my own vehicles. If a product does not meet my high standards they simply will not be used on your vehicle.
My commitment to all my clients is to provide the best possible products and services that would hold up to any standard not just locally but nationally or internationally. But don't take it from me, experience the difference yourself!
Happy motoring!
James