Paint Protection Film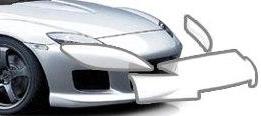 Paint Protection Film preserves your vehicle's good looks without changing its appearance. With industry-leading optical clarity, our paint protection film lets paint colours show true, all while creating an invisible shield of protection. Defend your vehicle's vulnerable areas against abrasions, nicks, scratches from insects, small road debris, and winter sand and salt with year-round protection.
Paint Protection Film provides the best option for keeping your vehicle in prime condition. And it is certain to enhance its quality and resale value for years to come.
Quality
Our Paint Protection Film patterns are computer-generated and cut precisely to factory specifications to ensure a perfect fit every time. Applicable to hoods, mirrors, fenders, door handles, door edges, bumpers and more.
Only the Best Films

LLumar Paint Protection Film is manufactured with dual functioning technology that maximizes durability and provides a high gloss shine. And you don't have to worry about the film yellowing over time. LLumar Paint Protection Film is recommended for factory paint and is easy to clean and maintain. It won't affect your painted finish — even if you decide to remove it.
Product Warranty
LLumar Paint Protection Film carries a limited 5 year manufacturers warranty covering product defect and "Yellowing". LLumar Paint Protection Film warranty will cover the material replacement along with a portion of the labour.
Paint Protection Film Packages & Pricing
Click on the service for details and pricing
Watch the video to learn more about our LLumar Paint Protection Film